Reviews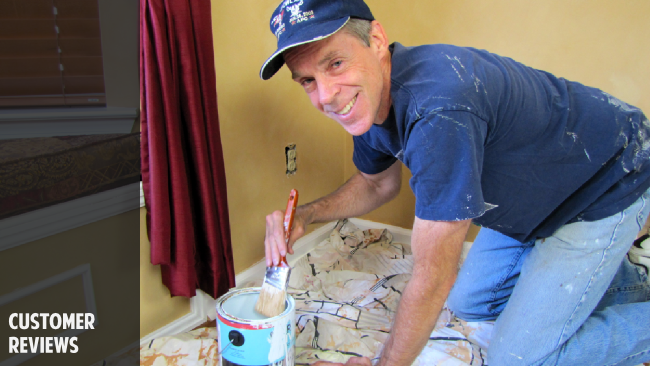 Positive Reviews posted by many satisfied customers
Mark has built his business on referrals. You can read the many reviews that have been sent in through this website. After Mark has done some painting for you, please come back and share your experience!
Average rating:
30 reviews
Aug 9, 2017
Mark spent 2 days painting our vaulted ceilings and crown molding. He arrived right on time and worked all day. His work is clean and professional, and he is a genuinely nice person. We couldn't be more pleased with the outcome. If you're looking for an excellent painter who is affordable, Mark is your man.
Jul 15, 2017
Mark Duncan did a great job painting the interior of my home.
He was punctual and very professional neat and completed the job in less time than I expected. He's a very friendly professional man and I would highly recommend his services
Jul 15, 2017
We had an awesome experience with Mark Duncan and Company. He was on time did a great job very clean and painted my Cathedral ceiling in less time than I expected.
He did a great job with great prices and I would highly recommend his service!
Jun 21, 2017
Great job!
We were very pleased with Mark's work and would highly recommend him to others. Our walls were in terrible shape but Mark was able to restore them to normal before painting. He delivered on what he promised and went above and beyond our expectations. We will definitely call him back for our future painting needs.
Jun 17, 2017
Mark has been to our house several times.His work is wonderful.We are so pleased with the painting he has done.Our whole upstairs has been done and every room is beautiful.Mark is neat, punctual, very experienced and has reasonable rates.We are extremely satisfied.Best painter around.Dont hestitate to contact him!
May 4, 2017
Happy Customer
Mark is reliable and punctual which is important today when you can't even get contractors to call you back. He doesn't waste any time in getting the job done. Mark painted my family room, kitchen and ceiling on the first job. Very pleased. More recently Mark painted my office in how and ceiling and I am getting ready for another job in the next month. Very neat, no mess. Mark works straight through the day to finish job with no wasting of time. Happy client.
Mar 18, 2017
Mark Duncan painted my home in November, he did a great job. Mark was reasonably priced and finished the job on time. He got right to work and now my house looks Great!
Mar 9, 2017
Wonderful experience
Mark repainted our basement. Quick clean and reliable! He did a great job for a very reasonable price. Will definitely use again!
Feb 26, 2017
Great Affordable Work
I hired Mark to paint my home so that I could get it ready for sale. Mark did a great job at an affordable price. In addition, he gave me great advice on painting options. Mark is reliable and he is genuinely a nice person. It was a real pleasure working with Mark and I highly recommend him.
May 2, 2016
Beautiful work!
Mark Duncan is an excellent painter. He painted every room in our house and did a wonderful job. His work is beautiful. He is fast, neat, punctual and very reasonable. Mark is also friendly and quite pleasant. We thank him for making our house into a lovely home.